Hello! :)
What is this you say, an actual entry? Or maybe you don't even remember joining this community which just goes to show how long I've been neglecting you! I'm so sorry for that but I'M BACK! Well, unofficially... we'll see how we go, hey? I'm Vanessa by the way!
So my (our) fellow mods
raiindust
,
vividcuriosity
(who are also back from their 'little' whirlwind trip... can I get a, "Hell yeah!") &
artofcruelty
decided to turn this community into a book lovin' community where we can share our favourite books or even our not so favourite books if you feel that strongly about them! Anything book related is welcome so go ahead and post!
For some reason I've entered a reading frenzy of late (as you can see below*) and went a bit mad at the library as I'm a poor TAFE student and would be broke/in serious credit card debt if I was to purchase all of them!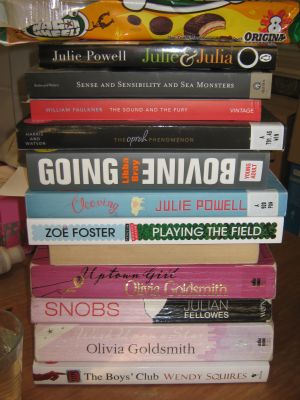 *Wagon Wheels for sustenance! ;-) Oh and yes, the book turned the wrong way around is Karen Joy Fowler's The Sweetheart Season - she's the author of the Jane Austen Book Club.
I finished
Julie & Julia
this afternoon and was quite surprised how I didn't get frustrated reading the book after seeing the film first (something that happens to me A LOT).
During this month I've also read:
>>
A Christmas Carol
by Charles Dickens
>>
When It Happens
by Susanne Colasanti
>>
The Bride Stripped Bare
by Anonymous (Nikki Gemmell)
I'm reading this tonight for a little fun!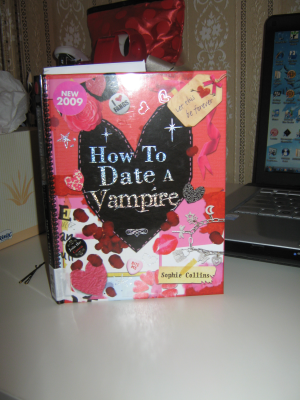 If you don't have time to post your own entries I'll still love to know what you're reading, wanting to read, or if you've read any of the above books and what you thought of them, etc, etc! :)
Feel free to add me here on LJ or twitter if you'd like. I'm
130587
Current Mood:
accomplished